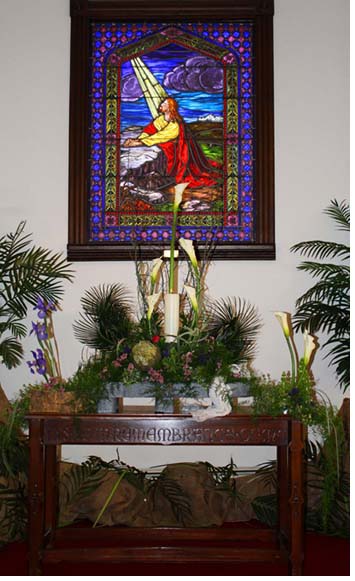 Liturgical Floral Art
The floral design on the Communion Table is an interpretive design inspired by scripture.
Luke 24:1-10
The stone slab represents the tomb where Christ's body was laid following his crucifixion. The white cloth resents the linen cloth in which his broken body would have been bound.
The two white calla lilies rising on the right side represent to the two angels that appeared in "dazzling clothes" to the women at the tomb that morning.
The three Irises on the left side represent the three women who went to Jesus' tomb on the third day. The Iris is considered by some to be the inspiration for the Fleur de lis and its symbolism of the holy trinity(1).
The branches represent the wood of the cross on which our Lord was crucified.
The deep green Sago Palm represents the sharp pointed betrayal and persecution of Christ surrounding the final week before his crucifixion.
The white calla lilies weaving through and overpowering the branches represent the resurrection of the Lord and his victory over death and sin.
Floral Design by Laura L. Parker AIFD,CF, CFD