Resurrection means …©

Acts 5:27-32; John 20:19-31;
Revelation 1:4-8

April 3, 2016
2nd Sunday of Easter

Dr. Sharlyn DeHaven Gates
So, right up front, let's get this preconceived notion we have about Thomas out of the way.  What adjective comes to mind when you hear about Thomas? (Doubting Thomas).

But here's the thing – Thomas was not asking for anything any different than the other disciples had needed, in order to believe that Jesus had risen from the dead.  In John, Mary Magdalene is the only one who went to the tomb and saw the risen Lord there, instead of a dead body.

But her joy and excitement – her great glad news that Jesus was alive – was met with much skepticism.  Those gathered there behind locked doors ("because of the Jews," John says, meaning the authorities of the temple) were afraid and didn't know what Mary was talking about.  Maybe she saw a ghost, which they completely believed was possible, and that would be quite frightening.  But Jesus alive?  Unless they saw for themselves, they refused to believe.

Which is exactly what Thomas said when they told him, since he wasn't present the first time Jesus appeared.

So, I'm asking you to set aside the notion of "Doubting Thomas" so that you might have an open and clear mind to hear new things in this resurrection story.

So there they were.  While John calls those gathered "disciples" he doesn't necessarily mean the twelve, minus Judas who had betrayed him.  John is probably referring to the community of followers who were with Jesus much of the time.  It surely included some of the women who were a part of his ministry, and others, besides just the eleven.

This is important because John is speaking to a small group of believers, a remnant of Jews who had come to have faith in Jesus and now were at risk of losing everything, including their lives.

For people who were superstitious and fearful of ghosts, you can imagine the immediate fear of those disciples when Jesus suddenly shows up in the room – not having one bit of difficulty getting in, even with doors locked.

But Jesus comes to them and says "Peace be with you," and shows them his hands, where the nails had been; shows them his side where the sword had been pushed into him.  And when they saw this, they believed and rejoiced.

And then Jesus says, again: "Peace be with you." And he goes on to say "As the Father has sent me, so I send you." 22When he had said this, he breathed on them and said to them, "Receive the Holy Spirit. 23If you forgive the sins of any, they are forgiven them; if you retain the sins of any, they are retained."

Remember, John's disciples here are a group of believers – like – well, like the first little congregation in a church.  Jesus wasn't giving this peace and this permission to forgive sins to just those 11 men who had followed him for three years.  This is important!  These included those men but also included other believers.

It's also important to know that, in John, the term "sin" doesn't mean immoral behavior.  To sin means to not believe.  The commentary on John in the New Interpreter's Bible says that: "In John, sin is a theological failing, not a moral or behavioral transgression.  To have sin is to be blind to the revelation of God in Jesus."

Remember, it is the gospel of John that specifically states in the very first chapter that "In the beginning was the Word … and the Word became flesh and lived among us."  It is from John that we have the theology of the incarnation – God in Jesus.  Jesus is God.

When Jesus breathed on this community of believers he was breathing in them the promised Holy Spirit which is John's version of Pentecost – the Spirit of Jesus coming upon the community of believers so they would be empowered to do what he then said.

"As the Father has sent me, so I am sending you.  To go out and continue my work.  To help people believe – to show them that I am the living, risen Jesus/Messiah/Christ, the Son of God.  In fact, the one who, in my resurrection now reveals God in me."

Forgiving sin, community of believers, means they come to believe; to have faith.  If they don't believe then their sin is retained.  "You have been given that power with the Holy Spirit that I have just given you," Jesus says.

To celebrate Easter, for John and hopefully for us, means that we are intimately bound to Jesus' life, death and resurrection.

To celebrate Easter is also to celebrate the beginnings of the church's mission in the world.  The commentary says: "Jesus lives, not because he can walk through locked doors and show his wounds to frightened disciples, but because he breathes new life into those disciples through the gift of the Spirit, and commissions them to continue his work."

To celebrate Easter means to have the peace that only the risen Lord can give, right in the midst of a world full of conflict and war and violence and sin – refusal to believe.  It is the peace that those early disciples, and that the early church had, even when they faced persecution and death.

Now, back to Thomas.  You see, Thomas wasn't asking for anything more than what the other disciples had been given.  And Jesus, in his grace and love was happy to come again and give Thomas what he needed to believe.

And it was Thomas who was the first to confess, in his newfound joy in believing, "My Lord and my God!"  Thomas now sees the truth in Jesus' words back in chapter 14, verse 7 where Jesus said: "if you know me, you will know my Father, also.  Whoever has seen me, has seen the Father."

Kind of takes us back to Christmas, doesn't it?  Emmanuel – God with us.

Now, God is revealed in the risen Jesus.  And Jesus – not shaming Thomas – but assuring Thomas that, while he (and the others) needed to see him, to see his scars, to be able to believe – others in generations to come, (including us) would also be blessed; even though they have not seen, they will also have faith.

They will come to believe because the Holy Spirit is sending Thomas and all the rest out into the world to share the good news.  John says: 30Now Jesus did many other signs in the presence of his disciples, which are not written in this book. 31But these are written so that you may come to believe that Jesus is the Messiah, the Son of God, and that through believing you may have life in his name."

Resurrection means:  Believing in Jesus as the Son of God.

Resurrection means: Being a part of the Body of Christ – the Community of believers – and in that fellowship we too are sent out, empowered by the Holy Spirit that all believers have been given.

We are sent to continue the ministry and teaching of Jesus – loving, being compassionate, healing, teaching, standing up for justice, offering those who are outcasts a place of care and love.  It means forgiving, offering grace.

In John, resurrection is about community, but even as we are a part of community we do, as individuals, have many blessings because of resurrection.

We know grace and forgiveness on a very personal level, don't we?  Many of us know what it means to be given a second or third or tenth chance – a new beginning.

To have this life that resurrection gives is to be changed; to be a new creation in Christ.  I asked Jim to share this video that touched me as I thought about what resurrection means.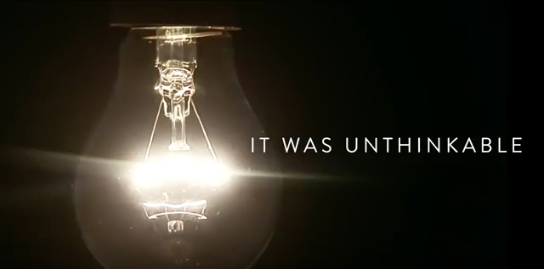 Click on picture or here to view the video.

Resurrection means life.  It means recognizing God in Christ.  It means falling on our knees and worshiping the King of Kings and Lord of Lords.  I close with the powerful words from Revelation 1:4-8:
(4)"... Grace to you and peace from him who is and who was and who is to come, and from the seven spirits who are before his throne, (5)and from Jesus Christ, the faithful witness, the firstborn of the dead, and the ruler of the kings of the earth.
"To him who loves us and freed us from our sins by his blood, (6)and made us to be a kingdom, priests serving his God and Father, to him be glory and dominion forever and ever. Amen.
(7)Look! He is coming with the clouds; every eye will see him, even those who pierced him; and on his account all the tribes of the earth will wail. So it is to be. Amen. (8)"I am the Alpha and the Omega," says the Lord God, " who is, and who was, and who is to come, the Almighty."
© Copyright 2016. All Rights Reserved.