Paracletos©
1 John 2:1-6; John 14:15-21              May 25, 2018                      Rev. Dr. Sharlyn Gates

Today is one of those Sundays when we have two focuses – one is an important part of our theological observance – Trinity Sunday.  It is a conclusion – in a way – of all the observances we've been doing since Advent.
We planned and waited for the birthday of the Christ-child, for Christmas, as we longed once again for his coming.  We celebrated that day and that season and then we were suddenly in the season of Lent as we reflected and considered all that Jesus did that led up to the cross.
We observed Holy Week that was a terrible reminder of the suffering and the sacrifice Jesus had to go through for our sakes; for our freedom from sin and death.  That sacrifice was freely given but it was a costly gift for Jesus. 
And we celebrated Easter – the resurrection of our Lord from death to life again.  We give thanks that because he lives, we too shall live.
Last week, we observed Pentecost – the coming of the Holy Spirit upon the disciples in such a powerful way – like wildfire that began with them and spread throughout the nations and the generations.
And today, we give thanks for the Holy Trinity – God in three Persons – God the Father, God the Son, and God the Holy Spirit.  One God but three very distinct personalities.  God the Father is the Creator and Sustainer of all things.  God, the Son – Jesus – was human and divine. 
He came to earth to give his life for us because "God loved the world so much that he gave his only Son that anyone who believes in him will not die but will have everlasting life."  That's because of the sacrifice Jesus gave on the cross.  And because the power of God raised him from death.
But Jesus said I will not leave you alone.  I am going to my Father but I will send you an Advocate – the Paracletos – the Spirit of Truth. The Greek word Paracletos means 'one who walks beside.'  It is because of the work of the Paracletos – the Holy Spirit, the third person of the Trinity that we are able to read the Scriptures and to see the truth in that Word. 
It is because of the Paracletos that we can make it through the most difficult times in our lives – and through our death. The Paracletos gives us courage when we need to be brave; comfort when we are in sorrow; encouragement when we are discouraged; a strong poke when we need to see our sin and turn the other way.
Yes, after all the observances on our liturgical calendar, it now all comes together as we give thanks for the Trinity. 
But today is important for us in the secular world, as well – and yet, it is also a very spiritual thing for many of us.  We are remembering our American heroes this weekend.  Many people will go to cemeteries all over our country as we remember the fallen soldiers who gave their lives in battle so that, not only their loved ones, but all who are American's might have freedom.
It always amazes me that young men and women find the courage and the determination within themselves to sign up – not even to be drafted and forced – but to voluntarily go into the service for our country so that America would remain strong and free.
I'm sure many of you know of someone in your family or community who died in battle – somewhere across the ocean in a lonely, violent place.  Fred's older brother, William C. Gates, Jr. was one of those. Billy had gone off to fight in World War II and his father rejoiced as he came marching home with the troops who made it.  Victory was theirs to celebrate.
Unfortunately, right around the corner was the Korean War.  They were desperate for men to join and they made Billy a 2nd Lieutenant and off he went to fight that battle as well.  This time, however, Billy did not come marching home.  Fred was eleven when they came to the door to inform his father that Billy had died in battle. Fred said his dad was never the same after that.
Billy's story is just one of thousands and his father's grief is one of many father's and families who lost their sons or daughters.  It's overwhelming when we think about the thousands of lives lost, young lives that were sacrificed for the sake of freedom.
It makes us feel a sense of pride, of patriotism, of deep gratitude when we consider all that was given, doesn't it? I think, for most of us, it makes us want to live as honorable Americans so that the loss wasn't in vain.
I have this great hope that most of our troops who suffered so much had that sense of the one who walks beside us – the Paracletos – the third Person in the Holy Trinity - the Holy Spirit. I hope they felt the comfort from the great Comforter; the encouragement from the great Encourager.
And I believe that all of those who died in the faith have known the great Advocator – who spoke for them as believers in Christ – who advocated for their eternal life because – and this is for us all – because Christ was the one who gave the ultimate sacrifice for freedom.  It was through his sacrifice of himself, his life, his death on a cross that we all have freedom – freedom from sin and freedom from perishing in eternity. 
Through the sacrifice of Jesus we are set free and we have eternal life in him.  The Holy Spirit – the Paracletos – speaks on our behalf because we are believers, we are committed to Christ. 
Just as those young men and women sacrificed their lives for us, Jesus gave the ultimate sacrifice for us.  Because of that, let us live lives that show our gratitude and love for a gift we cannot ever repay.
I want to end this message with this 2-minute video. It was a speech given by President Ronald Reagan in 1985 at the Vietnam Veterans Memorial. He is speaking in memory of those who gave their lives for our country and our freedom.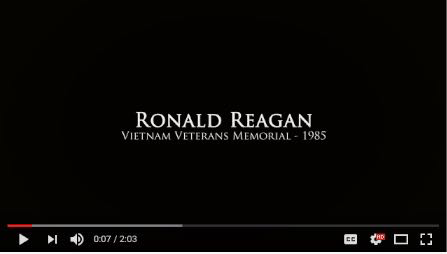 https://www.youtube.com/watch?v=arSiv9PRo04
© Copyright 2018.  All Rights Reserved.