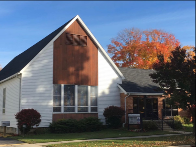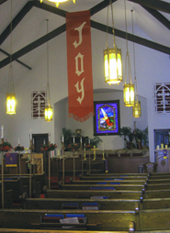 Click here for the new 360º
virtual tour of the Holly
Presbyterian Church's sanctuary.
(Click and hold down the mouse
button to pan left and right, and
use the "Shift" key to zoom-in and
the "Control" key to zoom-out.)
---
Holly Presbyterian Church
207 East Maple Street
Holly, MI 48442
Phone: 248.634.9494
---
Office Hours:
Monday -- Office closed
Tuesday - Friday -- 9:00 a.m. - 12:00 p.m. and 1:00 p.m. - 3:00 p.m.
Saturday -- Office closed
---
Regular Sunday
Worship Hours:
Adult Sunday School -- 9:30 a.m.
Fellowship & Coffee -- 10:30 a.m.
Worship Service (Child care provided) -- 11:00 a.m.
"The Gathering Place for Kids" Sunday School -- 11:00 a.m.
---
Phone:
Church Office -- 248.634.9494
Pastor:

Office -- 248-634-9494
Cell -- 248-390-0378
---
E-mail:
---
Join the conversation at the
Holly Presbyterian Church
on these FaceBook pages.
And be sure to click the
"Like" button.
---
---
Holly Presbyterian Church
Sexual Misconduct Policy and
Policy Notification and Acceptance Form
---
---
Teens for Christ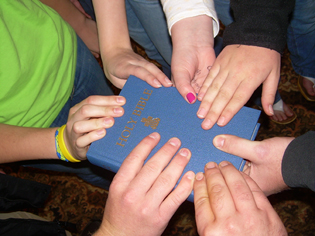 Teens for Christ To Be Announced. Keep watching here for more information.
---
The Baby Pantry is a Teens For Christ's project that they have named "In The Beginning," which is a free resource for parents of infants that provides new and gently used clothing, linens, incidentals, diapers, formula, and emotional support for families experiencing tough times. The church is committed to supporting our youth in this important ministry. Collections of baby cloths, linens and other small essentials will be ongoing. If you have any of these items that you would like to donate, please bring them to the church.
We are in need of:
Size 4 diapers
Kleenex
Clothing sizes 3, 4 and 5T
Donations can be placed in the crib in the narthex,
or financial donations can be placed
in the offering plate with a notation or envelope marked "Baby Pantry."
If you are planning on donating any of these items please keep these sizes in mind.
TFC appreciates all the support the congregation and community are giving to this important mission!
"In the Beginning" will now be open
on the second and fourth Fridays
of each month from 10:00 a.m. - 12:00 p.m.,
and on the third Saturday of each month
from 10:00 a.m. - 12:00 p.m.
---