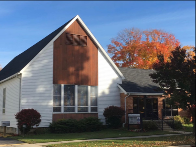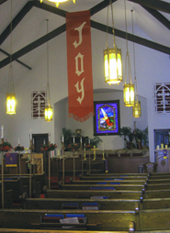 Click here for the new 360º
virtual tour of the Holly
Presbyterian Church's sanctuary.
(Click and hold down the mouse
button to pan left and right, and
use the "Shift" key to zoom-in and
the "Control" key to zoom-out.)
---
Holly Presbyterian Church
207 East Maple Street
Holly, MI 48442
Phone: 248.634.9494
---
Office Hours:
Office is closed to visitors
until further notice due
to the COVID virus.
Monday -- Office closed
Tuesday - Friday -- 9:00 a.m. - 12:00 p.m. and 1:00 p.m. - 3:00 p.m.
Saturday -- Office closed
---
Sunday Worship Hours:
Adult Sunday School -- Suspended
Fellowship & Coffee -- Suspended
Worship Service -- 11:00 a.m.
---
Phone:
Church Office --
248-634-9494
Pastor's Office --
248-634-9494
---
E-mail:
---
Join the conversation at the
Holly Presbyterian Church
on these FaceBook pages.
And be sure to click the
"Like" button.
---
---
Holly Presbyterian Church
Sexual Misconduct Policy and
Policy Notification and Acceptance Form
---
---
Welcome to Holly Presbyterian Church!
A member of Lake Huron Presbytery,
Presbyterian Church (USA)

We are a joyful family of faith
that nurtures knowing, growing, sharing, and serving as followers of Christ
within our church, our community, and around the world through peaceful and loving relationships.

Whether you're a visitor or member, this Website is dedicated to serving as a source of congregational information and, maybe, even inspiration. Start your visit by reading the news below, or by clicking the links on the left. You will find a virtual sketch of the people and life of Holly Presbyterian Church, which will give you a sense of who we are and the journey of faith we are now on.
---

| | |
| --- | --- |
| | Special Announcements |

COVID-19 and Flu Update

Michigan Dept. of Health and Human Services (MDHHS) issues face mask advisory
for holiday season due to sharp rise in flu and COVID-19 cases.

The Michigan Dept. of Health and Human Services (MDHHS) has issued a
Public Health Advisory that recommends everyone over the age of 2
should wear a face mask at indoor gatherings regardless of their vaccination status.
In addition, establishments should implement a policy to ensure that all persons entering
or seeking services, including employees, wear a mask.
This face mask advisory will remain effect until further notice.
Click here for more information about this Michigan Public Health Advisory.

Therefore, due to this serious current public health crisis,
the Session of the Holly Presbytery Church has approved the following mask policy change:

Effective immediately, masks are required when inside the church building.
The only exceptions are for:

Children under the age of 5,
Those with a medical reason preventing them from wearing a mask, and
Those who are speaking at the front of the Sanctuary during worship service provided they are at least 15 feet away from all others directly in front of them.




---

"In the Beginning" Baby Pantry Is Open Once Again
on the 1st and 3rd Fridays of each month from 10:00 a.m. until 12:00 p.m.!

There will be clothing, diapers, and toiletries available for children.

Masks are required for entry.

---

Watch Worship Services Online

Our Worship Services are now streamed live each Sunday at 11:00 a.m. on YouTube.
Please click here to watch.

A video of the Sunday Worship Service will be available
beginning the following Monday on our YouTube Channel.

---

---

Archive of Worship Service Videos
and Sermon Transcripts:

---

---

Contribute to the mission
of the Holly Presbyterian Church
If you would like to contribute to the mission
of the Holly Presbyterian Church,
you can do so using a secure donation form on the
Presbyterian Mission Exchange's Website.
Click here for details.

Happenings at Holly Presbyterian Church

Sunday, January 16

Worship Service -- 11:00 a.m.

Rev. Brooke Pickrell, pastor

Scriptures Reading:

The Gospel Reading: John 2:1-11

Office is closed
If you have a prayer concern or are in need of a pastor, please contact the church office at 248-634-9494 - or email at office@hollypc.org. The phones and email will be monitored.
AA meetings at the church have been suspended until further notice due to the coronavirus.

Monday

Office is closed
If you have a prayer concern or are in need of a pastor, please contact the church office at 248-634-9494 - or email at office@hollypc.org. The phones and email will be monitored.
AA & Al Anon meetings have been suspended until further notice due to the coronavirus.

Tuesday

Office is closed to visitors until further notice due to the COVID virus.
If you have a prayer concern or are in need of a pastor, please contact the church office at 248-634-9494 - or email at office@hollypc.org. The phones and email will be monitored.
Friends With Needs has been suspended until further notice due to the coronavirus

Wednesday

Office is closed to visitors until further notice due to the COVID virus.
If you have a prayer concern or are in need of a pastor, please contact the church office at 248-634-9494 - or email at office@hollypc.org. The phones and email will be monitored.
Friends With Needs has been suspended until further notice due to the coronavirus.
Presbyterian Women's and Presbyterian Men's Wednesday Evening Bible Studies have been suspended until further notice due to the coronavirus.

Thursday

Office is closed to visitors until further notice due to the COVID virus.
If you have a prayer concern or are in need of a pastor, please contact the church office at 248-634-9494 - or email at office@hollypc.org. The phones and email will be monitored.
Friends With Needs has been suspended until further notice due to the coronavirus.

Friday

Office is closed
If you have a prayer concern or are in need of a pastor, please contact the church office at 248-634-9494 - or email at office@hollypc.org. The phones and email will be monitored.
"In The Beginning" Baby Pantry - 10:00 a.m. until 12:00 p.m.

Saturday

Office is closed
If you have a prayer concern or are in need of a pastor, please contact the church office at 248-634-9494 - or email at office@hollypc.org. The phones and email will be monitored.

Sunday, January 23

Worship Service -- 11:00 a.m.

Rev. Brooke Pickrell, pastor
The Worship service will be streamed live on YouTube beginning at 11:00 a.m.

Office is closed
If you have a prayer concern or are in need of a pastor, please contact the church office at 248-634-9494 - or email at office@hollypc.org. The phones and email will be monitored.
AA meetings at the church have been suspended until further notice due to the coronavirus.

---

| | |
| --- | --- |
| | Come to church and get a mask with our logo. Spread the word, not the virus. |








©

Do you shop on Amazon?
If so, please sign up on Amazon Smile.
You can select Holly Presbyterian Church as your organization.
Then shop as usual. A part of the proceeds will go to us
It's that easy!

Click the "Give Now" button below. This will take you directly to the Holly Presbyterian Church's secure donation form on the Presbyterian Mission Exchange's Website.

Completely fill out the form using the easy-to-use instructions and then click-on the "Give Now" button at the bottom of that page. You will then see a "Thank You" screen.

You will receive an e-mail from the Presbyterian Mission Exchange acknowledging your donation to the Holly Presbyterian Church, which can then be used as a receipt for your IRS tax form. The church treasurer will simultaneously receive an e-mail notification of your donation for the church's records.

All donations are greatly appreciated.




Prayers of Comfort ...

For comfort and peace for the family and friends of Jim Pelton, who passed to the Greater Life on Monday, Janaury 17.
For comfort and peace for the family and friends of Mark Hubbard (a very good friend of the Banks family) who passed to the Greater Life.
For comfort and peace for the families of the Oxford High School students that were killed and for those who were injured. And for the survivors who may have feelings that are unresolved.
For comfort and peace for the family of Betty Striggow (Penny Schettling's mother).

Prayers of Joy ...

Prayers of JOY for the birth of twins Vera (4 lbs./15 ozs.) and Edie (4 lbs./7 ozs.) Howe. Both girls and mom, Nicole, are doing fine.

Prayers of Concern ...

For those who are suffering from natural and man-made disasters.
For all those sickened and threatened by the COVID-19 virus here in the United States and around the world.
For healing, strength, comfort and peace for: Jessie, Carlee and the Muenzer family as Jessie was taken to the hospital for stroke-like symptoms and found to have COVID; Wally Horton (friend of Cathie Killewald), who has been admitted to U of M Hospital for COVID and pneumonia; Sherry McLaughlin who is recovering from hand surgery; Mandie Bank's mom, who is still having back pain and constant bladder issues since her surgery; Frank Kasparek (Jan Bradshaw's brother in law) who is still dealing with a cough after contracting COVID in October; Steve in Florida (Friend of Cathy & Bob Killewald) who has stage 4 bladder cancer; Debbie Mikolowski (Penny Schettling's sister), who is battling cancer and having a difficult time; George Dzahristos (a friend of Randy Cook's) who has suffered an aneurysm in his brain and has a long recovery; Mary Renico who continues with wound treatment; Loretta Weiss who is still having quite a bit of knee pain even after having surgery in June; Melinda (Elizabeth Kici's daughter), who was diagnosed with breast cancer and is undergoing treatment; Jim Pelton, who has Lewy Body Dementia and in decline; Diana (friend of Cathie Killewald) who is facing health issues with her lungs and continues with medical tests; Jim Killewald (Bob & Cathie's son) who has a lot of pain; ongoing prayers for Hadleigh Banks, Keaton Banks; Fran Olson; and Terry & Julie Parish.
For those serving, or who have served, in our military.
For our country, its leaders and for world peace in a troubled time;
For all the churches in our Presbytery that are in transition.And for our church during these difficult times.

---

Prayer Requests from the Presbytery ...

Prayers for all of the churches in our Presbytery that are in transition.
Prayers for Rev. Peter Russell, Honorably Retired, who is residing at Abbey Park in Grand Blanc.
Prayers for the Presbytery's Mission Co-Workers:

Presbyterian Disaster Assistance: "Out of Chaos, Hope"
Presbyterian Disaster Assistance (PDA) enables congregations and mission partners of the Presbyterian Church (U.S.A.) to witness to the healing love of Christ through caring for communities adversely affected by crises and catastrophic events. We need your help. Please give generously.

100% OF YOUR GIFT WILL GO TO THE VICTIMS.
THERE ARE NO ADMINISTRATIVE COSTS.

If you prefer to mail a check, you may send it to:
Presbyterian Church (U.S.A.)
PO Box 643700
Pittsburgh, PA, 15264-3700

You may also call Monday through Friday, 8 a.m. to 5 p.m. (EST), at 1-800-872-3283 and donate by phone.

"In The Beginning" Baby Pantry Is Open Once Again!
"In the Beginning" Baby Pantry will be open once again at the Holly Presbyterian Church on 1st and 3rd Friday of each month from 10 a.m. until noon. There will be clothing, diapers, and toiletries available for children.

Masks are required for entry.

If you would like to help, please see Cathy or Donna.

---

Prayers For Our Missionary Families
The Holly Presbyterian Church supports two missionary families as part of our ongoing outreach to the world: the Keefer family (serving Christ through their Athletes in Action ministry at U of M in Ann Arbor, Michigan) and the Iobst family (serving Christ through the Operation Transit ministry in Paris, France). We are called to act as the hands and feet of Christ in our world, and because we cannot all serve in full time ministry, we offer our support financially, and spiritually, to those who do. Please pray for these families and consider sending them a note or e-mail of encouragement.

Remembering Past Members and Ministers
Over 1,700 people have joined our church over the years, including 38 pastors. We remember those who have gone on before us with a link on the "Our Church History" page to virtual cemeteries with information regarding burial locations, often including pictures of their memorial stones, links to other family members, and more.

Gathering Place for Kids Children's Sunday School
The Gathering Place for Kids Children's Sunday School has been suspended until further notice due to the coronavirus.

---

Adult Sunday School Class
The Adult Sunday School class has been suspended until further notice due to the coronavirus.

---

Presbyterian Women's and Presbyterian Men's Wednesday Evening Bible Studies
Presbyterian Women's and Presbyterian Men's Wednesday Evening Bible Studies have been suspended until further notice due to the coronavirus.

---

Free Online Religious Studies Videos
We have posted a link to free online Religious Studies Courses from Academic Earth on our Christian Education page. These highly informative video lectures are by experts from prominent colleges and universities in subjects ranging from early Christian art, Faith and Globalization, an introduction to the Old Testament, the New Testament, and Hebrew scriptures in Judaism and Christianity. Click here for more information and to access Academic Earth's Religious Studies.

---