Reflections from the Pastor's Study …
Rev. Dr. Sharlyn DeHaven Gates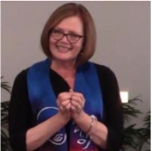 April Reflections from your pastor …
My friends, April is upon us! I've started this article several times and then deleted it. It's a difficult one to write as I approach my retirement date on April 30th. My mind is full of thoughts and memories of our time together in these past eight years. I am reminded of the day you voted for me to be your installed, called, full time pastor. I was asked then to write my very first article to you and in that I expressed how excited Fred and I were to move to Holly and serve the congregation at HPC. I was truly excited then and have loved every minute of our time together. Through many ministry endeavors, joys and sorrows, struggles, floods, rebuilding, congregational retreats and other fellowship times -- we have known many blessings. I have tried to give you my best and know that sometimes I have succeeded, while there were other times when I fell short. You have been good to me regardless. We have been good together and I know in my heart that my time with you was truly a call from God. I am grateful.
But before that April 30th date comes there is still much ministry for us to do. We are smack dab in the middle of Lent and approaching Palm Sunday, Holy Week and Easter. It is truly an important time in the life of the Church! Our study on Simon Peter is giving us new insights as disciples of Jesus. We look at this disciple who was faithful and true to our Lord yet who was a common man, a man with flaws, an ordinary person like you and me. This is the kind of people Jesus called to follow him and serve him. He did not expect his disciples to be well educated -- no one went to seminary -- or to be a person of means. Most of the disciples were poor. Many were fishermen. They were men who were impatient at times, hard headed, some had tempers, some wanted to be first, and they were slow to understand Jesus' teachings. Yet, they were called to follow, and so are we -- just as we are.
As we make our way through the journey of Lent and to the cross, I pray that you are spending time reading the Word of God and reflecting on what your call to discipleship is. What are the gifts God has given you for serving Him and the Church? What is your deepest struggle in being a faithful disciple? What is the greatest joy you have in following Jesus?
As the time comes for me to retire, it will be a period of transition for you (and for me). You will need to be strong and faithful in serving because the Church needs you; needs your gifts, your financial support, and your talents. A church in between pastors is still a Church -- vital in ministry. As we come to the great celebration of the resurrection of our Lord Jesus Christ, let us also celebrate the many promises that come with resurrection: Christ is with us always; the Holy Spirit fills us with power; death (bodily or the ending of something important) is just a transition into new life.
May the Lord bless you and keep you;
May the Lord cause His face to shine upon you
And give you peace.
In the name of the Father, and the Son and the Holy Spirit.
And all God's children said … AMEN.
Reverend Sharlyn
---


Transcripts of 2019 Sermons

Copyright 2019. All Rights Reserved
---
"Shouting Stones"
Rev. Dr. Sharlyn Gates
From Palms to Passion Sunday
April 14
---
"Stuck in Fear"
Rev. Dr. Sharlyn Gates
5th Sunday in Lent
April 7
---
"Living Stones"
Rev. Dr. Sharlyn Gates
4th Sunday in Lent
March 31
---
"'Til the Storm Passes By"
Rev. Dr. Sharlyn Gates
3rd Sunday in Lent
March 24
---
"The Rock"
Rev. Dr. Sharlyn Gates
2nd Sunday in Lent
March 17
---
"Call to Faith: What Shall We Do?"
Rev. Dr. Sharlyn Gates
1st Sunday in Lent
March 10
---
"Those Aha! Moments"
Rev. Dr. Sharlyn Gates
March 3
---
"Do What?"
Rev. Dr. Sharlyn Gates
February 24
---
"You Are Blessed"
Rev. Dr. Sharlyn Gates
February 17
---
"Casting Our Nets"
Rev. Dr. Sharlyn Gates
February 10
---
"The Greatest Thing in the World"
Rev. Dr. Sharlyn Gates
February 3
---
"Opening our Ears and Eyes"
Rev. Dr. Sharlyn Gates
January 27
---
"Saving the Best for Last"
Rev. Dr. Sharlyn Gates
January 20
---
"Belonging & Beloved"
Rev. Dr. Sharlyn Gates
January 13
---
"Going Home Again"
Guest speaker Pastor Robbie Carnes
January 6
"Epiphany of the Lord"

Transcript of Sermon
is not available
---
Archive of Worship Service Videos
and Sermon Transcripts

---

---
---