Reflections from the Pastor's Study …
Rev. Dr. Sharlyn DeHaven Gates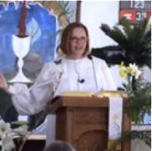 My Dear Friends in Christ,
How can I say thank you in a way that truly expresses how much I appreciate you all? Your kind and loving, thoughtful ways have meant so much to me and to Fred, too. I can hardly believe this time is upon us and I am retiring. It is truly bittersweet.
Thank you for all the things you have done in honor of my retirement. The plans, the gifts, the party has been wonderful! To all who helped us move and to all who prayed for our move to be smooth -- thank you!
For loving us and being so good to Fred and me over the years; for trusting me as your pastor; for listening to me preach every Sunday; for participating in things with me -- thank you! We love you all and will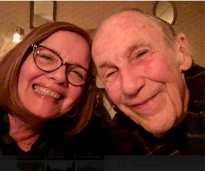 miss you terribly, but we trust that you are in God's hands and plans and God has wonderful new things ahead for Holly Presbyterian Church.
While I can't do pastoral things with you after retirement, we will continue our friendships. Please give us a call or stop by to see us when you are in the Williamston area. As the song says: "Friends are friends forever, if the Lord's the Lord of them."
In Christ's Love,
Rev. Sharlyn Gates
Rev. Sharlyn's new address:
304 W. Grand River Ave.
Apt 310
Williamston, MI 48895
Email: sharlyng20@gmail.com
---
Rev. Fred Gates
passed into eternal glory
March 25, 2021.
---
---

Worship Service Videos


Copyright 2020. All Rights Reserved

Due to the coronavirus, the Holly Presbyterian Church suspended all Worship Services beginning March 15, 2020. The following Worship Services were broadcast via the Internet by a guest speaker or from another church within the Presbytery of Lake Huron and the Presbyterian Church (U.S.A.) during this difficult time.
---
---
Holly Presbyterian Church's
Worship-In-The-Parking-Lot Service
Guest Pastor Rev. Don Neuville
May 30 - Memorial Day Weekend
Worship Service Video
---
Kirkridge Presbyterian Church,
Grand Blanc, MI
Pastor Rev. Glenn Grant
May 30 - Memorial Day Weekend
Worship Service Video
---
Linden Presbyterian Church,
Linden, MI
Pastor Rev. Dawn Russell
May 30 - Memorial Day Weekend
Worship Service Video
---
Holly Presbyterian Church's
Worship-In-The-Parking-Lot Service
Guest Pastor Rev. Linda Living-Howley,
who retired from Tyrone Community
Presbyterian Church after serving for 10 years.
May 23 - Pentecost Sunday
Worship Service Video
---
Kirkridge Presbyterian Church,
Grand Blanc, MI
Pastor Rev. Glenn Grant
May 23 - Pentecost Sunday
Worship Service Video
---
Linden Presbyterian Church,
Linden, MI
Pastor Rev. Dawn Russell
May 23 - Pentecost Sunday
Worship Service Video
---
Holly Presbyterian Church's
Worship-In-The-Parking-Lot Service
Guest Pastor Rev. Linda Living-Howley,
who retired from Tyrone Community
Presbyterian Church after serving for 10 years.
May 16
Worship Service Video
---
---
---
Holly Presbyterian Church's
Worship-In-The-Parking-Lot Service
Guest Pastor Rev. Linda Living-Howley,
who retired from Tyrone Community
Presbyterian Church after serving for 10 years.
May 9
Worship Service Video
---
---
---
Holly Presbyterian Church's
Worship-In-The-Parking-Lot Service
Guest Pastor Rev. Lindsey Carnes,
Fenton First Presbyterian Church,
May 2
Worship Service Video
---
---
---
Archive of Worship Service Videos
and Sermon Transcripts:

---

---
---