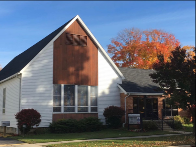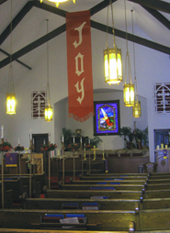 Holly Presbyterian Church
207 East Maple Street
Holly, MI 48442
Phone: 248.634.9494
---
Office Hours:
Office is now open
Monday -- Office closed
Tuesday - Friday -- 9:00 a.m. - 12:00 p.m. and 1:00 p.m. - 3:00 p.m.
Saturday -- Office closed
---
Sunday Worship Hours:
Adult Sunday School -- Suspended
Fellowship & Coffee -- Suspended
Worship Service -- 11:00 a.m.
---
Phone:
Church Office --
248-634-9494
Pastor's Office --
248-634-9494
---
E-mail:
---
Join the conversation at the
Holly Presbyterian Church
on these FaceBook pages.
And be sure to click the
"Like" button.
---
---
Holly Presbyterian Church
Sexual Misconduct Policy and
Policy Notification and Acceptance Form
---
---
Welcome to Holly Presbyterian Church!
A member of Lake Huron Presbytery,
Presbyterian Church (USA)

We are a joyful family of faith
that nurtures knowing, growing, sharing, and serving as followers of Christ
within our church, our community, and around the world through peaceful and loving relationships.

Whether you're a visitor or member, this Website is dedicated to serving as a source of congregational information and, maybe, even inspiration. Start your visit by reading the news below, or by clicking the links on the left. You will find a virtual sketch of the people and life of Holly Presbyterian Church, which will give you a sense of who we are and the journey of faith we are now on.
---

Help Support Relief Through
Presbyterian Disaster Assistance: "Out of Chaos, Hope"

The innocent Ukrainian civilian victims

Presbyterian Disaster Assistance (PDA) enables congregations and mission partners of
the Presbyterian Church (U.S.A.) to witness to the healing love of Christ
through caring for communities adversely affected by crises and catastrophic events.

100% OF YOUR GIFT WILL GO TO THE VICTIMS.
THERE ARE NO ADMINISTRATIVE COSTS.

If you prefer to mail a check, you may send it to:
Presbyterian Church (U.S.A.)
PO Box 643700
Pittsburgh, PA, 15264-3700

You can also drop a check off at our church office and we will forward it to
Presbyterian Disaster Assistance. Make the check out to the
Holly Presbyterian Church and note in the "memo" area of the check
that it is for "Presbyterian Disaster Assistance - Ukraine."



---

Our Worship Services are now streamed live
each Sunday at 11:00 a.m. on YouTube.

Please click here to watch.

A video of the Sunday Worship Service will also be available
following the Worship Service on our YouTube Channel.

---

COVID-19 and Flu Update

Masks Are Now Optional For Fully Vaccinated Individuals

Masks are now optional for fully vaccinated individuals per CDC recommendation.
Children 5 and under are not required to wear masks.

However, all adults who are not vaccinated are expected to wear a mask except in cases
where they ask to be excused due to health considerations.
The southwest corner of the sanctuary will be reserved for those who want to strictly
follow the physical distancing rules with non-household members.

---

Worship Service Videos / Sermons

---




Contribute to the mission
of the Holly Presbyterian Church
If you would like to contribute to the mission
of the Holly Presbyterian Church,
you can do so using a secure donation form on the
Presbyterian Mission Exchange's Website.
Click here for details.




Happenings at Holly Presbyterian Church

Saturday, November 26

Office is closed
If you have a prayer concern or are in need of a pastor,
please contact the church office at 248-634-9494 - or
email at office@hollypc.org. The phones and email will
be
monitored.

Sunday, November 27 -- The 1st Sunday of Advent


Coffee & Fellowship -- 10:30 a.m.

Worship Service -- 11:00 a.m

Rev. Brooke Pickrell, pastor

Scripture Readings:

Reading from the Hebrew Scriptures: Isaiah 2:1-5
The Gospel Reading: Matthew 24:36-44

Sermon (Rev. Brooke Pickrell)

Office is closed
If you have a prayer concern or are in need of a pastor,
please contact the church office at 248-634-9494 - or
email at office@hollypc.org. The phones and email will
be monitored.

Monday


Office is closed
If you have a prayer concern or are in need of a pastor,
please contact the church office at 248-634-9494 - or
email at office@hollypc.org. The phones and email will
be monitored.

Tuesday

Office is open -- 9:00 a.m. - 12:00 p.m. and 1:00 p.m. -
3:00 p.m.
If you have a prayer concern or are in need of a pastor,
please contact the church office at 248-634-9494 - or
email at office@hollypc.org. The phones and email will
be monitored.
Outreach Team Meeting -- 6:00 p.m.
Information Technology Team Meeting -- 7:00 p.m.

Wednesday

Office is open -- 9:00 a.m. - 12:00 p.m. and 1:00 p.m. -
3:00 p.m.
If you have a prayer concern or are in need of a pastor,
please contact the church office at 248-634-9494 - or
email at office@hollypc.org. The phones and email will
be monitored.

Thursday

Office is open -- 9:00 a.m. - 12:00 p.m. and 1:00 p.m. -
3:00 p.m.
If you have a prayer concern or are in need of a pastor,
please contact the church office at 248-634-9494 - or
email at office@hollypc.org. The phones and email will
be monitored.

Friday

Office is open -- 9:00 a.m. - 12:00 p.m. and 1:00 p.m. -
3:00 p.m.
If you have a prayer concern or are in need of a pastor,
please contact the church office at 248-634-9494 - or
email at office@hollypc.org. The phones and email will
be monitored.

"In The Beginning" Baby Pantry -- 10:00 a.m. - 12:00 p.m.

Saturday

Office is closed
If you have a prayer concern or are in need of a pastor,
please contact the church office at 248-634-9494 - or
email at office@hollypc.org. The phones and email will
be
monitored.

Sunday, December 4 -- The 2nd Sunday in Advent


Bible Study -- 10:15 a.m. to 10:45 a.m.

Coffee Hour -- 10:30 a.m.
Worship Service -- 11:00 a.m.

Rev. Brooke Pickrell, pastor

Office is closed
The Fenton Ambassadors' Christmas Concert -- 7:00 p.m.
If you have a prayer concern or are in need of a pastor,
please contact the church office at 248-634-9494 - or
email at office@hollypc.org. The phones and email will
be monitored.


---

Announcements and
Upcoming Events at
Holly Presbyterian Church

The Fenton Ambassadors' Christmas Concert Sunday, December 4th
The Fenton Ambassadors are coming to Holly Presbyterian Church
on Sunday December 4th at 7:00 p.m. We need your help with
supplying the refreshments afterwards. A sign-up sheet is available
in the narthex. If you have any questions, please see Cathie Killewald.

We need your help in advertising for this event. Flyers are available
to give to friends and family or email them. We need to put flyers in
the stores downtown and north of town including the Holly Plaza.

---

Special Congregational Meeting Sunday, December 11th
On Sunday, December 11th, after worship, we will have a Special Congregational Meeting for the purpose to elect elders and
Nominating Committee. Please plan on attending.

---

Coffee Hour Every Sunday at 10:30 a.m., followed by Worship
at 11:00 a.m.
We need a volunteer to sign up to make coffee each week. Coffee time is at 10:30 a.m.

---

Bible Study is on the 1st and 3rd Sunday ofthe month from
10:15 a.m. to 10:45 a.m.
The next Bible Studies will be Sunday, December 4, and Sunday, December 18.

---

Baby Pantry is every 1st & 3rd Friday, from 10:00 a.m. –
12:00 p.m. We need workers. There is a sign-up sheet in the Narthex. New
workers are welcome, and will be paired up with those who have
worked before.

---

Poinsettias
Thank you to all who purchased a poinsettia. They will be in the sanctuary on December 11th. After the Christmas service you may take your poinsettia home.

---

Updated Church Directory
A new directory has been made as well as a large print directory and is in the sanctuary. Please check and see that your information is correct. Contact the office for errors 248.634.9494

---

Prayers During these Difficult times:
Please O Lord our God. We come to you to admit our sins which are too many to number. We have not loved you faithfully above all else. We have turned away from the overwhelming needs of many others. We have allowed chaos, corruption, and selfishness around and within us to discourage us. These challenges have weakened our faith. We turn now to seek forgiveness. Lead us back to become true servants. Help us purify our thoughts and focus on righteousness. Let us surrender to His will and know we are forgiven. We ask this in the name of our Lord, Jesus. Amen.

Prayers For ...

Peace and comfort for the family and friends of Beth Dryer, who has passed to the Greater Life.
Healing, peace and comfort for: Pete Olsen, Carlee Ramirez's brother, who continues to battle colon cancer; John Bianchette and family (good friends of Brian & Laura Parker) as he battles a serious spinal fluid virus at Henry Ford in Detroit; Tony (Cathie Killewald's friend); Steve in Florida (Friend of Cathy & Bob Killewald) who has stage 4 bladder cancer; Jim Killewald (Bob & Cathie's son) who has a lot of pain.
All those serving, or who have served, in our military.
Our country, its leaders and for world peace in a troubled time.
All the churches in our Presbytery that are in transition. And for our church during these difficult times.

Prayers For Those Suffering From Natural And Man-made
Disasters ...

For the families of the victims and those affected by Hurricanes Ian and Nicole.
For those affected by the fire in downtown Holly.
For all those people affected by the war in Ukraine.

---

Prayer requests from the Presbytery ...

For the Rev. Peter Russell, Honorably Retired, who is residing at Abbey Park in Grand Blanc.
For the Presbytery's Mission Co-Workers:
For all of the churches in our Presbytery that are in transition.



"In The Beginning" Baby Pantry
The "In the Beginning" Baby Pantry" is open at the Holly Presbyterian Church on 1st and 3rd Friday of each month from 10 a.m. until 12:00 noon. There will be clothing, diapers, and toiletries available for children.

Masks are now optional for fully vaccinated individuals per CDC recommendation.
Children 5 and under are not required to wear masks.

If you would like to help, please see Cathy or Donna.

---

Prayers For Our Missionary Families
The Holly Presbyterian Church supports two missionary families as part of our ongoing outreach to the world: the Keefer family (serving Christ through their Athletes in Action ministry at U of M in Ann Arbor, Michigan) and the Iobst family (serving Christ through the Operation Transit ministry in Paris, France). We are called to act as the hands and feet of Christ in our world, and because we cannot all serve in full time ministry, we offer our support financially, and spiritually, to those who do. Please pray for these families and consider sending them a note or e-mail of encouragement.

Remembering Past Members and Ministers
Over 1,700 people have joined our church over the years, including 38 pastors. We remember those who have gone on before us with a link on the "Our Church History" page to virtual cemeteries with information regarding burial locations, often including pictures of their memorial stones, links to other family members.

Gathering Place for Kids Children's Sunday School
The Gathering Place for Kids Children's Sunday School has been suspended until further notice.

---

The Adult Sunday School class is every
1st & 3rd Sunday at 10:15 - 10:45 a.m.
in the Fellowship Hall.

©

Do you shop on Amazon?
If so, please sign up on Amazon Smile.
You can select Holly Presbyterian Church as your organization.
Then shop as usual. A part of the proceeds will go to us
It's that easy!





Electronnic Online Giving

Click the "Give Now" button below. This will take you directly to the Holly Presbyterian Church's secure donation form on the Presbyterian Mission Exchange's Website.

Completely fill out the form using the easy-to-use instructions and then click-on the "Give Now" button at the bottom of that page. You will then see a "Thank You" screen.

You will receive an e-mail from the Presbyterian Mission Exchange acknowledging your donation to the Holly Presbyterian Church, which can then be used as a receipt for your IRS tax form. The church treasurer will simultaneously receive an e-mail notification of your donation for the church's records.

All donations are greatly appreciated.




Presbyterian Disaster Assistance

Presbyterian Disaster Assistance: "Out of Chaos, Hope"
Presbyterian Disaster Assistance (PDA) enables congregations and mission partners of the Presbyterian Church (U.S.A.) to witness to the healing love of Christ through caring for communities adversely affected by crises and catastrophic events. We need your help. Please give generously.

100% OF YOUR GIFT WILL GO TO THE VICTIMS.
THERE ARE NO ADMINISTRATIVE COSTS.

If you prefer to mail a check, you may send it to:
Presbyterian Church (U.S.A.)
PO Box 643700
Pittsburgh, PA, 15264-3700

You may also call Monday through Friday, 8 a.m. to 5 p.m. (EST), at 1-800-872-3283 and donate by phone.

---